Pagers
Whether you manage the restaurant, retail store, or hotel, maintain guest loyalty is your priority. Paging systems make your dining out or shopping experience more enjoyable and efficient. With guest pagers, the guest feels more connected while they are doing their shopping while they are waiting.
Our high-quality syscall call paging systems are designed to deliver an enjoyable guest experience, and enhance the level of service at your business premises.
Pagers are used in many applications to manage waiting customers or send alerts to your employees.
Diamond Pager
Unique modern twist on the round pager. Lighter, thinner and with increased battery life. Charging status can be recognized by the two different LED Colors. And as With all of our products, the diamond pager from SYSCALL can be customized with your own logo. 
Coaster Pager
You can never go wrong with the classic round coaster pager from SYSCALL. Great for all kinds of guest management. Its Durable design and matt finish gives it a premium feel and as with all of our solutions, it can be customized by your logo. Widely used in water parks and fast food outlets.
Transmitter
We called them desk-top Transmitters, heavy-duty durable, compatible with all types of Syscall pagers.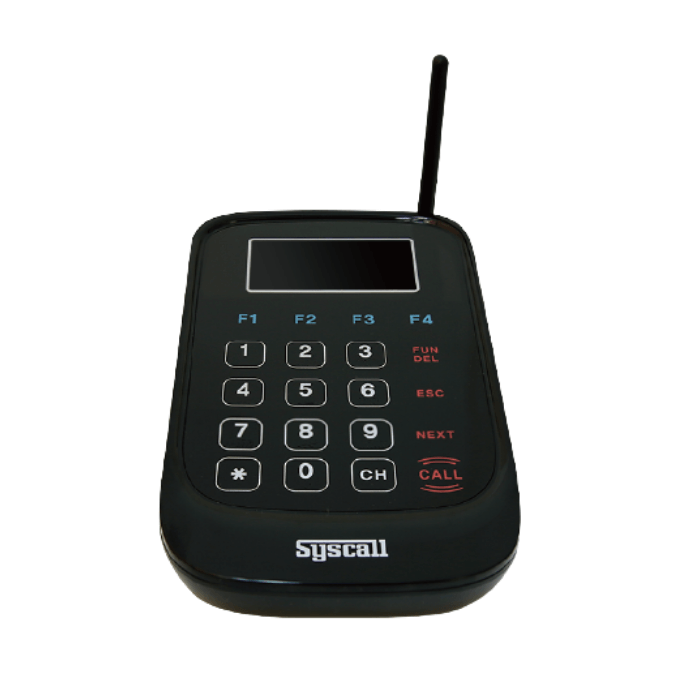 Multi Transmitter
Build to last, modern and heavy duty transmitter. Transmitter's touch keypad  gives the ability to re-call the pager with shortcut keys easily . and its OLED screen displays the text brighter and clearer.
Guest paging system consists of one transmitter and many handheld pagers, to page a pager simply enter the pager number on the transmitter and press send immediately your customer will receive an alert on his pager, many industries restaurant hotels factory are using our systems in UAE, KSA, and GCC.