A nurse call system is a communication system used in healthcare facilities to enable patients to request assistance from nurses or other healthcare providers. It consists of a network of interconnected devices that allow patients to communicate their needs and caregivers to respond promptly.
Here's how a typical nurse call system works:
Patient Device:
Each patient is provided with a call button or a call device that they can easily access. This device is usually handheld or mounted on a wall within reach of the patient.
Call Station:
The call button or device is connected to a central call station located at the nurses' station or a central control room. The call station receives and displays the call requests from the patients.
Communication Channels:
The call station is connected to various communication channels, such as display panels, pagers, intercom systems, or mobile devices carried by nurses or caregivers. These channels ensure that the call requests are immediately transmitted to the appropriate personnel.
Alerting and Notification:
When a patient presses the call button, it triggers an alert or notification on the display panels or mobile devices of the nursing staff. This allows them to quickly identify the patient and the urgency of the request.
Communication:
Once alerted, a nurse can respond to the patient's call by acknowledging the request through the system.
Priority Levels:
Nurse call systems often have different priority levels assigned to calls based on the urgency of the request. For example, a patient's urgent medical needs may be assigned a higher priority than a simple request for assistance.
Patient Safety:
Overall, nurse call systems play a vital role in enhancing patient safety, improving response times, and facilitating effective communication between patients and healthcare providers in hospitals, nursing homes, and other healthcare settings.
Syscall Nurse call system products
Nurse call Button SHS-100:
A hand-held nurse call button, specially designed for the hospital.
Two call functions (CALL, CLEAR).
The cradle makes the call button easy to fix and move from the patient's bed.
A magnet is embedded inside the call button for easy attachment to the patient's bed.
Syscall SB-700 Wristwatch pager:
SB-700 is water-resistance direct pager with outstanding durability.
You can set the pager with 3 touch switches that make you more comfortable.
Long-lasting battery life (1.5 hours charging, 1 day using).
Syscall Display Screens SR-A Series:
Various display types are available by the number of digits and how many displays.
Easy setup supported through 6 touch keys and English voice guidance.
The server will know which table needs service through the displayed number on the receiver.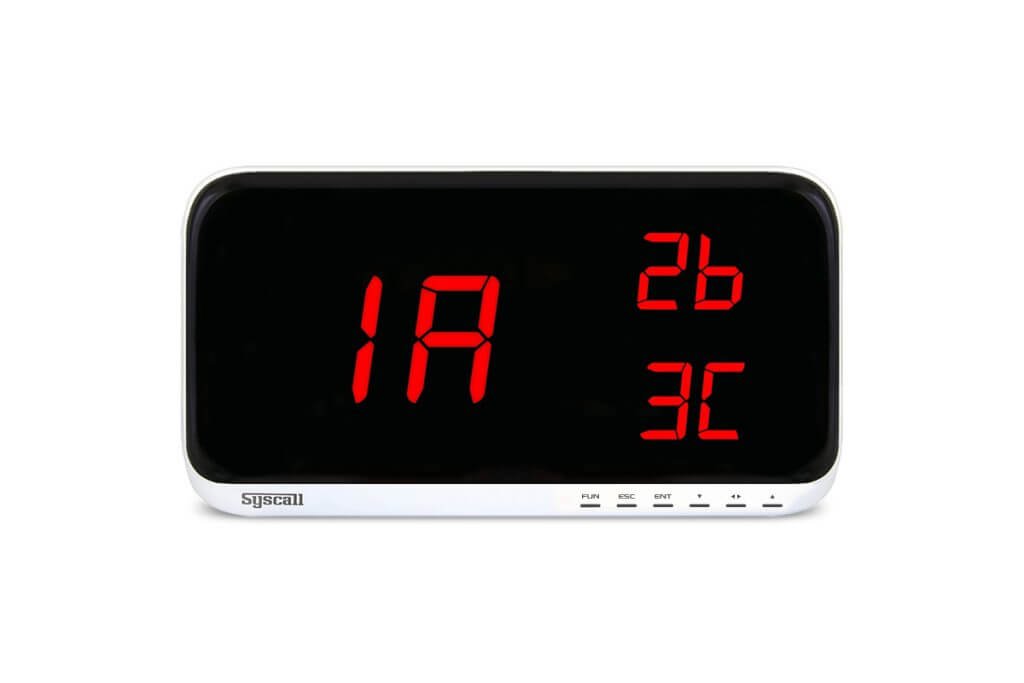 Light Indicators SLL-400
Notify people with loud sounds in an emergency situation.
Visualized notification by 2 types of light effect.
Buzzer volume control available (High-Mid-Low-Mute).
2 ways installation (Lengthwise or widthwise).
Syscall Nurse Call Solutions
Nurse Call System

Patients press the call button, room or bed number will be shown on the receiver.
Nurses are also able to check the calls by the pager.

Wireless Guest Paging System For Hospitals or Clinics
Hand over to the guest pager to waiting patients.
Call the guest pager in their sequence of treatment.
Call the guest pager when the medicine is ready.
Wireless Doctor Paging System
When doctors need to come and see patients, especially in an emergency room.
Medical staff can call doctors by paging system.
If You Want More Information Click Here Or Call Us
Tel: +971 6 5728 767
Mobile no.: +971 56 474 6715