We are Al Sindan Elec. Devices Trd.
known as SET
Supplying On-Site Paging Solutions is what we do since 2002.
SET, proud that thousands of VIP clients are using our solutions across the UAE and GCC. Through our serious commitment and hard work with our suppliers, we recently signed an exclusive distribution agreement with Syscall brand from Korea. Syscall is one of the most reliable high-quality wireless product manufacturers in the field of on-site paging solutions.
Our professionally trained team takes care of our client's requirements, thus offering them the best-tailored solutions to suit their business operations and the standard after-sales services we provide to our clients are the key to our success.
To see how our solutions positively impact your business, kindly click on the industry below that is most similar to yours.
Hotels & Resorts
We offer call buttons and pager systems for Hotels and Resorts to improve customer satisfaction and revenue. Waiter calling system, Servercall pagers, and Table locator are must-have solutions.
similarly to pagers restaurant.
Healthcare, Hospitals & Clinics
Hospitals, medical facilities, and health care use paging systems. pagers help manage incoming patients and also to help the patient to call for help.
similarly. pagers restaurant.
Retails & Hypermarket
Guest paging system prevents loss of buying customer due to long wait.
correspondingly.
Warehouses & Manufacturing
Wireless calling & paging systems improve communication henceforth improves efficiency in your facilities.
pagers restaurant, correspondingly.
Paging Systems

SYSCALL On-site paging solutions help companies manage their potential customers in industries such as restaurants, healthcare, hotels, banks, customer service offices, valet parking, warehouses, and anywhere you want to professionally manage a queue. Paging solutions improve customer experience and satisfaction and that's not all.
To learn more about how paging solutions can benefit your business operations, please click on the link below

.
Wireless Bell Systems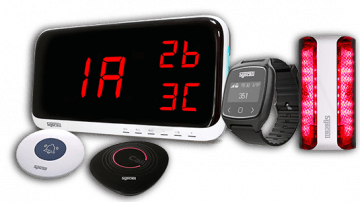 SYSCALL's wireless call buttons or wireless bell systems solutions, help the user to call for service or assistance by simply pushing a button. Industries such as restaurants, cafes, hotels, hospitals, retail, and clubs are all businesses for which customer satisfaction is a critical factor in maximizing their profits. And that's exactly what wireless bell systems solutions help you achieve.
To learn more about how the wireless bell solution will help you improve your business operation kindly click the link below. 
in fact.
Just A Few Of Our Happy Customers